How to Handle Charged-off and Delinquent Accounts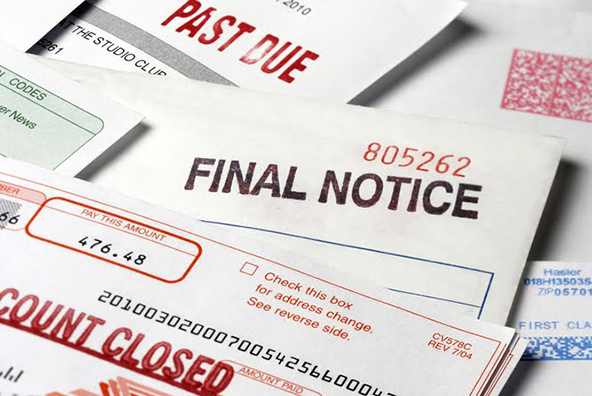 The latest figures released by Fitch Ratings, a credit ratings agency, show that credit card charge-offs surged 1.12% in January to reach 11.37%, the highest level since a record 11.52% in September of last year. Charged-off are credit card loans that issuers don't believe will be collected and have written off their books as losses. Typically, an account is charged off 180 day after the last payment was received. The same report shows that in January payments that were 60 or more days late were at 4.50%, while those 30 days late stood at 5.72%. These are extremely high levels, but how exactly are consumers affected by delinquent and charged off accounts?
Both delinquent and charged-off accounts are listed as derogatory items on your credit report and affect your credit score. Delinquent payments will reduce your score, but will not have a lasting effect if you resume making payments on time and convince creditors that the odd late payment was an aberration. That is not to say that you shouldn't be all that concerned with making payments on time. On the contrary, you should, because consistency and honoring the contract terms will help you get the highest possible credit score and lowest interest when you need a loan.
Charged-off accounts present a much bigger challenge and leave a much more lasting effect on your credit history. A single charged-off account can be enough to prevent you from obtaining any form of credit and can hurt your employment prospects. It remains on your credit report for at least seven years and destroys your credit score. Moreover, you are still responsible for the debt after it has been charged off and the lender or a collection agency can still attempt to recover it. The credit reporting agencies report charged off accounts as "negative accounts," often listing them under "collection accounts."
The best way to deal with charge-offs is to settle them with your creditor at the earliest opportunity. Remember that the creditor has already written off your account as a loss, so they will be willing to negotiate and accept a settlement for less than the full amount, as little as 50% or less in many cases. Now that you have negotiated a settlement, how does that reflect on your credit history?
Once you settle your debt, the negative information will not be automatically deleted from your credit report. What will change is that your account will be reported as "paid in full" (even if you had settled for less than the full amount), which immediately improves your credit worthiness in the eyes of your prospective lenders.
The best course of action that you should follow, once you settle a charged-off account, would be to:
Obtain a letter from your creditor stating that you have paid the account in full and they are required by law to issue such a letter.
Send a copy of this letter to each of the national credit bureaus: Experian, Equifax and TransUnion. Under the Fair Credit Reporting Act (FCRA), the bureaus are required to update your report within 30 days.
If the information is still not updated after 30 days, the FCRA requires that the account is deleted from your history, which is the best possible outcome for you.
According to FICO, the maker of the most popular credit score, their scores are comprised of the following components:
Payment history accounts to 35% of the score.
Amounts owed — 30%.
Length of credit history — 15%.
New credit — 10%.
Types of credit used — 10%.
With that in mind, the following tips will help you improve and maintain your credit score:
Универсальный англо-русский словарь . Академик.ру . 2011 .
Смотреть что такое "delinquent account" в других словарях:
delinquent — de‧lin‧quent [dɪˈlɪŋkwənt] adjective ACCOUNTING delinquent account/​debt/​payment etc an account, debt etc that has not been paid at the right time, or has not been paid at all: • Creditor management allows lenders to reduce the risk of… … Financial and business terms
delinquent — I UK [dɪˈlɪŋkwənt] / US adjective 1) behaving in a way that is criminal or immoral 2) a) legal American a delinquent account or tax bill has not been paid on time b) someone who is delinquent in paying their taxes or bills fails to pay the money… … English dictionary
delinquent — de|lin|quent1 [ dı lıŋkwənt ] adjective 1. ) behaving in a way that is criminal or ANTISOCIAL 2. ) AMERICAN LEGAL a delinquent account or tax bill has not been paid on time a ) someone who is delinquent in paying their taxes or bills fails to pay … Usage of the words and phrases in modern English
Delinquent — The failure to accomplish what is required by law or duty, such as the failure to make a required payment or to perform a certain action. A delinquent is an individual or corporation with a contractual obligation to make payments against a loan… … Investment dictionary
delinquent — de|lin|quent1 [dıˈlıŋkwənt] adj [Date: 1400 1500; : Latin; Origin: delinquere to fail, offend , from linquere to leave ] 1.) behaving in a way that is illegal or that society does not approve of →↑criminal delinquent girls/boys/children/teenagers … Dictionary of contemporary English
delinquent — I. noun Date: 15th century a delinquent person II. adjective Etymology: Latin delinquent , delinquens, present participle of delinquere to fail, offend, from de + linquere to leave more at loan Date: 1603 1. offending by neglect or violation of… … New Collegiate Dictionary
delinquent — delinquently, adv. /di ling kweuhnt/, adj. 1. failing in or neglectful of a duty or obligation; guilty of a misdeed or offense. 2. (of an account, tax, debt, etc.) past due; overdue. 3. of or pertaining to delinquents or delinquency: delinquent… … Universalium
delinquent — de•lin•quent [[t]dɪˈlɪŋ kwənt[/t]] adj. 1) failing in or neglectful of a duty or obligation; guilty of a misdeed or offense 2) bus past due: a deliquent account[/ex] 3) soc of or pertaining to delinquents or delinquency 4) soc a person who is… … From formal English to slang
delinquent — 1 adjective 1 behaving in a way that is illegal or that society does not approve of: delinquent behaviour 2 technical a delinquent debt, account etc has not been paid on time 2 noun (C) someone, especially a young person, who breaks the law or… … Longman dictionary of contemporary English
delinquent — /dɪ lɪŋkwənt/ adjective US referring to an account or payment of tax which is overdue … Dictionary of banking and finance
Skip Account — A borrower who defaults on a loan and skips out on repayment by moving without providing a correct forwarding address. Skip tracers are collection agents hired by lenders to find skip accounts and collect the money owed on the account, or a… … Investment dictionary
A delinquent account is a credit account on which a consumer has failed to make at least the minimum monthly payment by the due date. A delinquent account that is 30 days past due will spur the credit card company to start contacting the consumer about bringing the account current. If the account becomes 60 days delinquent, then the credit issuer will begin reporting the borrower as delinquent to credit reporting agencies with continued actions for collection. Sometimes creditors will work with delinquent customers in the early stages of delinquency to negotiate different repayment terms that will help the customer bring the account current.
BREAKING DOWN 'Delinquent Account'
A delinquent account has an effect on a borrower's credit score and credit profile. Credit issuers actively seek collection of debt on delinquent accounts after a borrower has missed one payment. However, credit issuers do not begin reporting late payments until a borrower has missed two consecutive payments or is 60 days past due.
Borrowers with a credit history will have an established credit profile with credit reporting bureaus which lists each account as an individual trade line on their credit report. An account will receive its first delinquent notation when it is reported as 60 days past due, with further delinquent marks being added to an account if missed payments continue. Lenders also keep internal records of payments, with delinquencies causing late fees and higher accumulated balances as well as keeping borrowers from receiving higher credit limits. Some issuers may also begin charging a penalty rate of interest for borrowers in delinquency. Issuers cannot however base account charges on delinquencies with other lenders.
Even one delinquent account notation will affect a borrower's credit score almost immediately. A borrower's credit score can decrease by 25 to 50 points when a delinquency occurs with subsequent delinquencies causing further decreases. Thus, a 25 to 50 point drop could be enough to put a borrower in a lower category of credit worthiness. For some borrowers this could mean going from a super-prime or excellent borrower, with a score of 740, to being considered merely a near-prime or acceptable borrower, with a score of 660. This lower credit score also affects a borrower's eligibility for new credit and the interest rates they are charged.
Account delinquencies are one of the most challenging factors to overcome for borrowers seeking to improve their credit score. Delinquencies typically remain on a borrower's credit report for three to five years. Credit scoring formulas look at each individual's overall credit profile when determining a score, therefore delinquencies tend to affect each borrower differently. However, since payment history is one of the most important components of a credit score, a late payment will always have a negative impact. In addition, a recent delinquent account will have a more significant impact than an older delinquent account that has since been brought current.
Most credit issuers maintain proprietary debt collection services for early delinquencies. However, delinquent credit card accounts that remain unpaid will eventually get sold to a third-party debt collector. These debt collectors are charged with obtaining the original debt owed with interest and may take legal actions. Debt that is considered written off is also reported to credit bureaus and can have an even greater negative impact on a borrower's credit score than single delinquencies.
Dealing with delinquent accounts
Image:
We think it's important for you to understand how we make money. It's pretty simple, actually. The offers for financial products you see on our platform come from companies who pay us. The money we make helps us give you access to free credit scores and reports and helps us create our other great tools and educational materials.
Compensation may factor into how and where products appear on our platform (and in what order). But since we generally make money when you find an offer you like and get, we try to show you offers we think are a good match for you. That's why we provide features like your Approval Odds and savings estimates.
Of course, the offers on our platform don't represent all financial products out there, but our goal is to show you as many great options as we can.
Is there anything more annoying than a roommate who leaves their dirty dishes in the sink?
You've asked them to wash their dishes before, and they said they would do it, yet they don't. Then they forget again and a few more dishes are added to the sink. By this point, you're frustrated, but not as angry as when they then do it a third consecutive time. Ultimately, you move out and tell all of your friends what a horrible roommate they were, and your old roommate's reputation is ruined.
Dirty dishes might seem irrelevant to your credit report, but what if the dirty dishes symbolized late credit card payments? Imagine that you're the annoying roommate to your creditors, who are becoming increasingly frustrated with your delinquency. They might tolerate one late payment and give you a second chance. However, if you keep making mistakes, you can ruin your relationship with them, in addition to maiming your credit score.
What is a delinquent credit card account?
In the credit card industry, any account past due is a delinquent account. However, many creditors will not report an account as delinquent to credit bureaus until at least 30 days after the missed due date, and if you've previously had a clean payment history, your creditor might not report the delinquent account until after two consecutive missed payments.
Additionally, there are multiple levels of delinquency that may be reported on your credit report. A debt can be reported as 30, 60, 90 and then 120 days late. Multiple delinquencies or a longer period of delinquency can affect your credit score much more negatively. For example, your credit score could drop as much as 125 points after numerous missed payments are posted to your credit report.
Also, even after you have fully paid off these debts, the missed payment information on your credit report may still remain for up to seven years, signaling potential irresponsibility to future creditors. So it's usually in your best interest to fulfill at least the minimum payment due each month, and, if you do end up with delinquent accounts, to eventually pay those off, especially if they've gone into collections.
How do I remove a delinquent account from my report?
As previously stated, delinquent accounts are typically removed seven years after the date of the original delinquency. Even if the debt is sold to a collection agency, the original date of delinquency is normally when you defaulted on the original creditor. Unfortunately, these accounts don't always disappear on schedule, so you may have to put in a little extra work to take them off.
If you realize that a reported delinquency wasn't removed when it should've been, you should retrieve a copy of your credit reports from the three major credit bureaus. (You can see your TransUnion and Equifax reports for free on Credit Karma.)
The credit reports might not be identical, so it's a good idea to know if the delinquency hasn't fallen off one or all of them. If you believe a credit bureau has included a delinquency that is inaccurate or outdated, you can file a dispute with the credit bureau.
Don't let the dishes sit. The process might seem tedious, but your credit report will thank you when it's been cleaned up. If your credit report looks like a dirty sink right now, grab that sponge and start cleaning.
Image:
AvantCard review: A solid starter credit card
Image:
Hilton Honors American Express Card review: Hotel rewards with.
Image:
Credit Karma Guide to Credit Cards
Image:
Southwest Rapid Rewards® Plus Credit Card vs. Southwest Rapid.
Image:
Credit Karma guide to free scores
Image:
3 of the best credit union credit cards
© 2007–2018 Credit Karma, Inc. Credit Karma™ is a registered trademark of Credit Karma, Inc. All Rights Reserved. Product name, logo, brands, and other trademarks featured or referred to within Credit Karma are the property of their respective trademark holders. This site may be compensated through third party advertisers.
iPhone is a trademark of Apple Inc., registered in the U.S. and other countries. App Store is a service mark of Apple Inc.
Android is a trademark of Google Inc.
The Equifax logo is a registered trademark owned by Equifax in the United States and other countries.
How to Determine an Original Delinquency Date
How do you find out the original delinquency date of an account?
The original delinquency date is the date the account first became delinquent and was not brought current. This date is used to determine when the late payment information is deleted from your credit report.
How to Calculate When An Account Will Be Removed From The Report
The original delinquency date applies to the first late payment in a series. So, if a payment is late today but next month the account is brought current, seven years from today that late payment would be deleted, but the account would continue to be reported with the more current payment history.
However, if an account were to become late today, the payments were never brought current, it was charged off as bad debt, closed and sent to collection, then the original delinquency date would be today's date. Even if the bad debt was eventually paid, seven years from today's date, the closed account and the subsequent collection account would be deleted.