The 10 Most Exclusive Credit Cards in the World
Home » Luxury Lists » The 10 Most Exclusive Credit Cards in the World
The average citizens only use credit cards for purchases and savings, but the world's elite have access to some exclusive credit cards that give them additional perks such as access to premium concert tickets, airline reward programs and many other benefits.
These prestigious credit cars are usually made from a very expensive material and you will probably need an invitation to get access to one of them, depending on your bank account. Let us take a look at the most exclusive credit cards throughout the globe right now.
The Black Card from Barclays is made of stainless steel and it looks absolutely beautiful. But it's extremely exclusive since you have to prove you have a huge income putting you in the 1% richest persons in your country, just to get one. To keep the Black Card you have to pay $500 each year, but with this car you'll have access to the VIP Airport Lounges, a $250,000 travel insurance, premium hotel access, concierge service and other rewards.
Exclusive to Russia, Germany, the Middle East and some parts of Asia, the Ultima Card can be received only by invitation and when it comes to travel, it has you covered since you get 120,000 points when you get it. You get rounds of golf whenever you want them for free, access to the airport lounges, exclusive hotel deals and when it comes to travel, you can have your own Bentley, private jet or yacht at your disposal in less than 10 hours!
8. Merrill Accolades American Express Card
Of course, you have to be a client of the Merrill Lynch Wealth Management division to get one of these cars and even then you only get one if you're invited. The fee for the card is only $295 and given that you have to earn at least $200,000 a year to get one, you won't even feel it. The bull of the Merrill Lynch logo is on the card in golden colors and by just waving this card you have hotel discounts, complimentary amenities at resorts, full time concierge service, access to airport lounges and airline discounts.
If they need to earn at least $200,000 per year for a Merrill Accolades Card, this one is five times more demanding since you just have to keep $1 million in the bank account just to get it. It is the card used by Queen Elizabeth II and thus it's fit for royalty, carrying an annual percentage rate of 49.1% and giving you airport lounge privileges, travel insurance, concierge service and purchase protection. Of course you still have to wait for an invitation even if you have the million waiting in a Coutts account.
This one chose white as its color instead of the more typical gold or black tones and it is available by invitation via a current card member or the Stratus Rewards partner company. This exclusive VISA card was designed for wealthy consumers who usually travel by private jets. The annual fee is of $1,500 and the members can pool their earned points of jet travel and redeem flight hours on the private jets of the MarquisJet Company. The discounts, complimentary car service, upgrades, amenities at luxury hotels and concierge service are available as well and you can redeem points for consultation with lifestyle experts, but you don't really need them since Luxatic is the only lifestyle expert you could wish for.
If you had to be in the 1% richest people of the country to get a Black Card in America, the Brazilian version is even more demanding since you have to be one of the 3,000 richest persons in the country, which is way less than 1% in a country with 200 million. The members of the Santander Group private bank receive it through invitation and it is not clear what is the amount needed in the bank account to qualify. As the perks offered to you there's the usual worldwide airport lounge access, concierge service and discounts on private jets, all for an annual fee of just $350.
4. JP Morgan Chase Palladium Card
This wonderful card from JP Morgan Chase will surely stand out since it is made of palladium and gold with laser etchings. It was created almost ten years after American Express Centurion Card and the worth of the card itself is $1,000 due to the precious metals on it. With an annual fee of $695, it is rumored that you must have $25 million invested with JP Morgan Chase to receive one. Aside from the private jet discount, hotel upgrades, events access and concierge service it also rewards you with 35,000 points if you spend over $100,000 in a year and there is no spending limit.
It was entitled infinite but it just lets you get $15,000 each day from any ATM in the world. You can get half a million with your card if you go to a bank branch and you only need to make $100,000 a year to get one of these cards, meaning that you will have to work quite a bit to pay the credit. The point of the card is to allow you easy access to money throughout the globe and it can be issued in countries like Jordan, Russia, South Africa, Canada, France or Luxembourg with different requirements in each of the countries to receive an invitation. You have to pay a different sum as well depending on the country, but each of them allows concierge service, premium hotel accommodations, access to exclusive events and travel recommendations.
2. Dubai First Royale MasterCard
Exclusive to the United Arab Emirates, this impressive card has no annual fee and there is no spending limit either. When it was first created, it was only given to the 200 richest customers of the Dubai First Bank and it's extremely difficult to get one to this day due to the amazing perks it offers. "You ask for the moon and we try to get it", says Ibrahim al Ansari, the CEO of Dubai First, which gives you access to lifestyle managers that basically make sure you get everything you need. There is no credit limit and no restrictions with this card so the look has to follow suit and thus it has a .235-carat diamond in the center with a black tone around it and two gold edges.
1. American Express Centurion Card
The Centurion card from American Express has been the most desired credit card in the world, ever since it was first issued, back in 1999. Made from titanium, this sleek black card is a lot heavier than any other credit card. You can't really apply for the Centurion Card, you just need to spend at least $250,000 every year to get an invite to the exclusive club from American Express. The card itself costs and additional $5,000 and of course, there is the annual fee of $2,500. Once you have the titanium card you receive concierge service, complimentary hotel rooms, personal shoppers, flight upgrades, airport lounge privileges and no spending limit.
The 8 Most Expensive Perfumes in the World
Top 10 Richest Families In The World
Top 20 Most Amazing Churches in the World
Top 10 Biggest Shopping Malls in the World
Top 10 Magnificent Yachts of 2014
The Top 10 Most Luxurious First Class Airline Cabins
10 Billionaires You've Probably Never Heard Of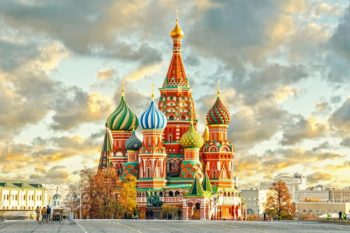 The 14 Most Incredible Domes in the World
The Top Ten Most Expensive Baseball Cards
Automotive History: The Fastest Car of Each Decade
The Top 10 Richest Photographers in the World
Sign up for Luxatic's weekly newsletter and get the best luxury news delivered straight to your inbox
The Top 10 Most Luxurious First Class Airline Cabins
The Futuristic Rimac C_Two Will Only Obey Its Owner
The World's Longest Overwater Aisle Awaits for you in Bali
This Private Car Museum in Malibu Could be Yours for $10M
Introducing the TAG Heuer Carrera Heuer 01 Aston Martin
The 5 most exclusive credit cards
Image:
We think it's important for you to understand how we make money. It's pretty simple, actually. The offers for financial products you see on our platform come from companies who pay us. The money we make helps us give you access to free credit scores and reports and helps us create our other great tools and educational materials.
Compensation may factor into how and where products appear on our platform (and in what order). But since we generally make money when you find an offer you like and get, we try to show you offers we think are a good match for you. That's why we provide features like your Approval Odds and savings estimates.
Of course, the offers on our platform don't represent all financial products out there, but our goal is to show you as many great options as we can.
At a glance: Credit Karma's top exclusive credit cards
So you want an exclusive credit card?
For many people, credit cards may simply be a means to an end, used for the occasional purchase. But for a select group of people with strong credit scores and a lot of spending money, a variety of exclusive credit cards may be available — sometimes by invitation only.
These exclusive credit cards come with larger-than-life perks, such as personalized concierge service and luxurious gifts, but they also come at a cost. Many of these exclusive credit cards have high annual fees, and they may not even be available to the general public.
Read on to learn about the five most exclusive credit cards and find out if they're really worth the hype.
The 5 most exclusive credit cards
1. Most expensive card design: Mastercard® Gold Card™
From cardholders in the last year
15 Billing Cycles
on qualifying transfers
$&95; $295 for each additional user
24K-Gold Plated – Patented Card Design
2% Value for Airfare Redemptions
2% Value for Cash Back Redemptions
24/7 Luxury Card ConciergeTM
Exclusive Luxury Card Travel Benefits
$200 Annual Airline Credit Toward Qualifying Purchases
$100 Global Entry Application Fee Credit
Luxury Gifts
Members-Only LUXURY MAGAZINE
Annual Fee: $995 ($295 for each Authorized User) 16.24% Variable APR on Purchases and Transfers
0% Introductory APR on balance transfers made in the first 45 days after account opening
* See the online provider's credit card application for details about terms and conditions. Reasonable efforts are made to maintain accurate information. However, all credit card information is presented without warranty. When you click on the "Apply Now" button, you can review the credit card terms and conditions on the provider's website.
What makes this card exclusive
The high annual fee makes this card an exclusive luxury for those who can afford it.
The card is plated in real gold.
The Mastercard® Gold Card™ is not just any credit card as it's plated in 24-karat gold (yes, really). Like the Centurion® Card from American Express, the eligibility requirements remain hush-hush, but the benefits offer a high level of luxury for customers.
The card comes with these perks:
A concierge service.
$100 Global Entry application fee credit.
$200 annual airline credit toward qualifying purchases.
Double points when redeeming for airfare.
A subscription to Luxury magazine.
Exclusive gifts from recognized companies.
2 percent value for cash back.
The downside? The card has a steep annual fee of $&95; $295 for each additional user per year, plus $295 for each authorized user added to the account.
2. Best for luxury travel: Platinum Card® from American Express
Platinum Card® from American Express
From cardholders in the last year
Earn 60,000 Membership Rewards® points after you use your new Card to make $5,000 in purchases in your first 3 months.
Up to $200 for Uber rides annually. Credit and Uber VIP status available to Basic Card Member only.
5X Membership Rewards® points on flights booked directly with airlines or with American Express Travel.
5X Membership Rewards® points on eligible hotels booked on amextravel.com.
As a Platinum Card Member, you can enjoy access to the Global Lounge Collection, the only credit card airport lounge access program that includes proprietary lounge locations around the world.
Receive complimentary benefits with an average total value of $550 with Fine Hotels & Resorts. Learn More.
$200 Airline Fee Credit, up to $200 per calendar year in baggage fees and more at one qualifying airline.
Visit our credit card partner's site in order to learn more and securely apply for the Platinum Card® from American Express
Terms Apply.
* See the online provider's credit card application for details about terms and conditions. Reasonable efforts are made to maintain accurate information. However, all credit card information is presented without warranty. When you click on the "Apply Now" button, you can review the credit card terms and conditions on the provider's website.
What makes this card exclusive
It has a high annual fee ($550).
Platinum Card® from American Express offers great travel perks, invite-only events and Uber rides.
American Express is known for offering some of the most exclusive credit cards on the market. Aside from its "black card," it also offers the Platinum Card® from American Express, which provides cardholders access to an array of perks.
Members can use the American Express Global Lounge Collection℠, which includes access to more than 1,000 airport lounges (including proprietary lounge locations) across 120 countries. Cardholders also receive up to $200 in airline credits annually for baggage and other incidental travel fees at a qualifying airline of their choice.
Using this card, members can use their special concierge service to arrange transportation, tickets for shows, gifts and more. In addition, cardholders get exclusive invites to private events that are for members only.
In March 2017, American Express announced that the Platinum Card® from American Express was getting a makeover and boosting some of its benefits, including:
Up to $200 in Uber credits each year for Basic Card Members.
Additional global events.
Five Membership Rewards® points per dollar spent on eligible purchases.
These extra perks will come at a cost though as in March 2017 the annual fee rose from $450 to $550.
3. Highest annual fee: Chairman Card® by Citi
What makes this card exclusive
This card is reserved for certain Citigroup customers.
It offers a high credit limit, travel perks and invite-only events.
When it comes to the most exclusive credit cards, black is the gold standard. And Citigroup has its own exclusive "black card" — Chairman Card® from Citigroup.
There is not a lot of available information about this card – it's reported to be only for those wealthy individuals who are part of Citigroup's private banking and investing units. The card's mysterious website touts that it offers "Exciting privileges. Outstanding Service."
This exclusive credit card is rumored to come with the following perks:
A $300,000 credit limit.
24/7 access to concierge service.
Access to airport lounges and travel upgrades.
Ticket protection.
Special access to invite-only events curated for cardholders through Citi® Private Pass BEYOND®.
4. Most luxurious perks and no credit limit: Centurion® Card from American Express
What makes this card exclusive
It's an invite-only card associated with a high status.
It offers cardholders luxurious perks and benefits.
Centurion® Card from American Express, also known as the "black card," has started some of the greatest urban legends in credit card history. And to this day, it's still shrouded in mystery.
This by-invitation-only credit card is tough to get. Though the American Express website provides little information about the eligibility requirements or the card benefits, it's believed that members must charge in the six figures each year and be an existing American Express customer to get an invitation for the card.
The "black card" offers members the following perks:
Exclusive benefits and upgrades related to travel, dining and more.
Membership Rewards® points.
And more… only the select few are in the know.
The perks of the card come at a hefty cost — currently, there's a $7,500 initiation fee and an annual fee of $2,500.
5. Best for invitations to special events: Dubai First Royale MasterCard
What makes this card exclusive
The card isn't available to the general public and is by invitation only. You may also have to live in Dubai in order to have a chance of qualifying.
Cardholders have access to a relationship manager and "Royale lifestyle management."
Dubai First Royale MasterCard is one of the most elite credit cards in the world. This card is offered by Dubai First, a consumer finance company based in the UAE. According to its website, the card is "Desired by many but attainable by only a select few…"
To emphasize its commitment to luxury, the card has a small, embedded diamond crest and comes with:
A dedicated relationship manager for each card member. Generally, the relationship manager's job is to cater to the customer's every whim and keep him or her happy.
Royale lifestyle management. This card offers a Royale Lifestyle Manager who can help you book private excursions, exotic trips and more — all at your leisure, 24 hours a day.
This is one of the most exclusive cards because of its limited availability. The annual fee and interest rates are unlisted on their website but rates tend to run high with most luxury cards. In order to get this card, you must be personally invited by Dubai First.
We handpicked these credit cards and based their level of exclusivity on the following:
Availability: By nature, exclusive cards aren't available to many people. Some of these cards are invite-only.
Annual fee: The higher the annual fee, the less likely average consumers can afford the card.
Benefits: These cards offer exclusive benefits for cardholders that are unmatched when compared to "regular credit cards." After all, not many of us can have our own concierge at our service 24/7.
Exclusive perks: Not only do these cards offer great benefits, but they offer exclusive perks to invite-only events, specialized gifts and more.
Reviews: Based on our research, these cards are the cream of the crop and the costs are worth the rewards.
Bottom line: Are exclusive credit cards worth it?
What separates the most exclusive credit cards from the rest of the pack? Usually, it's part urban legend and part brilliant marketing. While most of these prestigious credit cards are unattainable for regular folks, they are available for wealthy individuals at the higher echelon of society.
You can apply for some of these cards on your own — if you can stomach the annual fees.
The exclusivity of these cards can mean access to a variety of perks, luxuries and special events, as well as a higher credit limit. It can carry some status as well.
Review how the perks and bonuses shape up against the cost. Depending on your situation, some of these perks could be worth the cost. On the other hand, you don't want to be stuck with a card you can't afford and get into credit card debt.
Image:
Credit Karma Guide to Finances for Newlyweds
Image:
Amazon Prime credit card now offering 5 percent cash.
Image:
Credit Karma Guide to Credit Card Perks
Image:
Citi Prestige® Card Review: Exclusive rewards for avid travelers
Image:
Mastercard® Black Card™ review: A luxury credit card worth.
Image:
Credit vs. debit vs. cash: Which payment method do.
© 2007–2018 Credit Karma, Inc. Credit Karma™ is a registered trademark of Credit Karma, Inc. All Rights Reserved. Product name, logo, brands, and other trademarks featured or referred to within Credit Karma are the property of their respective trademark holders. This site may be compensated through third party advertisers.
iPhone is a trademark of Apple Inc., registered in the U.S. and other countries. App Store is a service mark of Apple Inc.
Android is a trademark of Google Inc.
The Equifax logo is a registered trademark owned by Equifax in the United States and other countries.
15 of the World's Most Exclusive Credit Cards (2018)
By: Linsey Knerl • February 22, 2018
Opinions expressed here are ours alone, and are not provided, endorsed, or approved by any issuer. Site may be compensated through the issuer affiliate programs.
Advertiser Disclosure tap to close
Credit cards are not created equally. That means it is always in your best interest to shop around, compare perks, and find the card that will reward your individual lifestyle and purchasing habits. With dozens of cards available at any one time, shuffling through them can be exhausting — especially if only the best will do.
We've done the heavy lifting for you with this list of 15 popular (and exclusive) credit cards, some of which are available by invitation only.
Earn 50,000 bonus points after you spend $4,000 on purchases in the first 3 months from account opening. That's $625 toward travel when you redeem through Chase Ultimate Rewards®
Chase Sapphire Preferred® named a 'Best Travel Credit Card' by MONEY® Magazine, 2016-2017
2X points on travel and dining at restaurants worldwide & 1 point per dollar spent on all other purchases.
Earn 5,000 bonus points after you add the first authorized user and make a purchase in the first 3 months from account opening
No foreign transaction fees
1:1 point transfer to leading airline and hotel loyalty programs
See application, terms and details.
The Chase Sapphire Preferred card is well-known for its premium travel and dining rewards. Bonus point offers are available for certain purchases, and your perks go further when redeemed for travel. With its sleek metal finish, the Chase Sapphire Preferred Card is just as stylish as some of its more exclusive counterparts.
Capital One® Venture® Rewards Credit Card
Enjoy a one-time bonus of 50,000 miles once you spend $3,000 on purchases within 3 months from account opening, equal to $500 in travel
Earn unlimited 2X miles per dollar on every purchase, every day
New! Earn 10 miles per dollar on hotels when you pay with your Venture card at hotels.com/venture; learn more at hotels.com/venture
Fly any airline, stay at any hotel, anytime
Travel when you want with no blackout dates
Miles won't expire for the life of the account and there's no limit to how many you can earn
See application, terms and details.
There is no limit to the rewards you can earn with the Capital One® Venture® Rewards card. Travel perks and earnings opportunities are plentiful! Every 100 Capital One Venture miles you earn is worth a full $1 when redeemed toward travel.
Ink Business Preferred℠ Credit Card
Earn 80,000 bonus points after you spend $5,000 on purchases in the first 3 months from account opening. That's $1,000 toward travel when you redeem through Chase Ultimate Rewards®
Earn 3 points per $1 on the first $150,000 spent in select categories each account anniversary year
Earn 1 point per $1 on all other purchases–with no limit to the amount you can earn
Points are worth 25% more when you redeem for travel through Chase Ultimate Rewards
Redeem points for travel, cash back, gift cards and more – your points don't expire as long as your account is open
No foreign transaction fees
See application, terms and details.
This is the premier Ink Business Preferred℠ Credit Card, available only to those with business owners with excellent credit. The Ink Business Preferred℠ Card makes a great everyday card for businesses with its triple point bonus rewards for multiple popular categories, including travel, shipping, and advertising purchases.
4. American Express Centurion® Card (The Black Card)
Most everyone has heard of the coveted "Black Card", but few know that it's real name is the "Centurion." This invite-only card is highly coveted and one of the most recognizable cards for big spenders. In addition, this card features:
Activation fee of $7,000+ and a $2,000+ annual membership fee
Dedicated concierge, travel agents, and shopping assistance
Travel perks of one free hotel stay with a booking, flight upgrades, and lounge access
In addition to the massive spending that must occur to be eligible for this card (rumored at $250,000 and up), it is currently not something you can apply for. American Express selects and invites those with high earnings to be part of this cardholder club.
The crème-de-la-crème of MasterCards is its Gold card, made from 24K-Gold-Plated carbon. It has the best rewards of all the luxury MasterCards, as well as the highest annual membership fee (currently $995). Perks include:
Double points when redeemed for airfare and a $200 annual airline credit
2% cash back
$100 Global Entry application fee credit
Cardholders also get the occasional luxury gift and a subscription to MasterCard's members-only magazine. It is currently taking applications for this card on its website .
We're not surprised to see MasterCard with its own version of a luxury card. This card happens to be open for anyone to apply for, however, and features the following perks and fees:
$495 annual membership fee
Receive a $100 annual airline and $100 Global Entry application fee credit
Luxury gifts from brands throughout the year
No need to wait for an invitation with this Black Card. Those with worthy credit and a sizeable income can apply at the MasterCard website .
7. The Platinum Card® from American Express
Another exclusive card from Amex, this account offers specially curated perks and member experiences. You'll enjoy:
Automatically qualify for Hilton HHonors Gold Status and earn a 5th night free per stay
This Platinum card has a $550 annual fee, which is much lower than the American Express Black Card. Apply here.
One step below the Black Card is MasterCard's Titanium. Made from brushed stainless steel, it's pretty to look at and has decent perks. Among them:
Earn double the points when you redeem them for airfare and receive an annual $200 airline credit
Apply today , and you'll be charged a much lower $195 annual fee upon acceptance.
9. Citi®/AAdvantage® Executive World Elite™ MasterCard®
If you fly American Airlines frequently, this is the exclusive card for you. Your membership offers free admission to any Admiral's Club lounge worldwide. This includes additional cardholders on your account – even if they aren't with you. Already a lounge member? You might qualify for a statement credit. Additional perks include:
The first checked bag is free for you and up to 8 traveling companions on the same flight
Annual fees and bonus offers will vary. See the American Airlines website for updated terms.
10. Delta Reserve® Credit Card from American Express
Delta flyers will love this card, which boasts 24/7 concierge service and travel assistance. These popular benefits are also included:
Free Companion ticket upon annual renewal
Complimentary access to the Delta Sky Club lounge with free snacks, beverages & WiFi
Apply for this card for frequent fliers at the website . The annual fee for this card is $495.
11. Ritz-Carlton Rewards® Visa Card
If only the finest hotel experiences will do, then paying a $450 annual fee for this loyalty credit card shouldn't be difficult. The very generous perks include:
Earn an annual $300 travel credit and $100 hotel room credit
Upgrade to Ritz-Carlton Club level up to 3 times a year on stays up to 7 nights
Qualified travelers will also get free TSA Pre ✓ ® privileges. Applications are accepted for those with excellent credit and who haven't had the same card in the past 24 months.
Travelers with no loyalty to any particular airline or hotel will find this card for excellent credit holders to be a worthy possibility. The annual fee of $450 is offset by some attracting perks, including:
Earn a $250 travel credit
Get your 4th night free at a hotel of your choice when you book through the Citi Prestige Concierge
A flexible rewards program (called "ThankYou" rewards), is another favorite feature. Apply via the Citi website to see if you qualify.
If You're Not Platinum Status (Yet), Try These Instead
If you're not black or titanium card material (or feel that even the Platinum doesn't match your wardrobe), don't feel bad. Most of us don't have champagne tastes, and need something a bit more practical for our credit needs.
The following cards have excellent benefits and are ideal for those with excellent credit. The average Joe will see them do an extraordinary job of balancing perks with practicality.
11 of the Most Exclusive Credit Cards Available in 2018
There are certain credit cards out there that automatically tell others that you're an important person.
The first U.S. credit card company to use exclusivity to draw in customers was American Express, back in 1999. That was when the company first rolled out what is one of the most exclusive credit cards: The Centurion Card. Nicknamed "the black card," it has become synonymous with the idea of high rollers, high spenders, and all things luxury.
Since the first day it became available, it has been an invitation-only credit card. However, if you also want to take part in the world of exclusive credit cards there is no reason to wait around for an invitation. Simply peruse this list to find a luxury card that fits your unique needs.
Here are 11 of the Most Exclusive Credit Cards Available for 2018
1. American Express Centurion Credit Card (Black Card)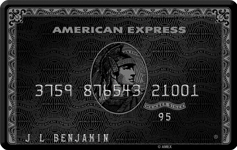 Our list starts with the famed American Express Black Card that was mentioned earlier. The true name for this card is the Centurion Card. Part of its appeal is the mystery behind the card. This card isn't open to the public, and American Express has to reach out to you first. It's rumored that only those who spend (and pay off) at least $250,000-350,000 per year across all of their American Express accounts are invited to become Centurion Cardholders.
If you are invited, be prepared to pay a high premium to join this exclusive club. The initiation fee alone is rumored to be a hefty $7,500, with a recurring annual fee of around $2,500. Cardholders do get a pretty wide range of benefits such as automatic hotel room and flight upgrades, plus discounts on cruises and luxury car rentals. Some airports even have luxurious lounges that are free for Centurion users. There may still be some benefits that remain to be heard of.
2. Dubai First Royale MasterCard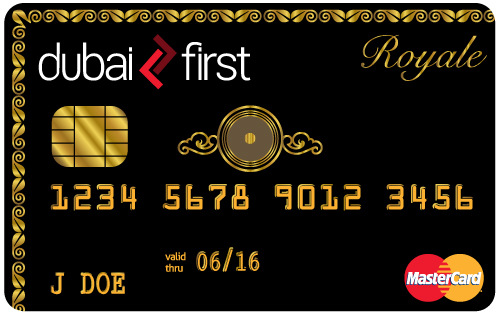 Dubai First claims that its Royale MasterCard is the most exclusive credit card in the world. Like the Centurion by American Express, the Royale by Dubai First is an invitation-only credit card with no pre-set spending limit. The card itself is trimmed on two sides with gold and features a solitary .235-carat diamond centered on the front. Most of the cardholders are located in the United Arab Emirates, but this card can still be found around the world.
The process that Dubai First uses to select invitees is kept secret, but it's no secret that you must be in the ultra-high net worth club to join. Cardholders get a dedicated relationship manager with Dubai First. They also get a lifestyle manager who acts as a kind of exclusive concierge to obtain—for a price—almost anything the cardholder desires. Tickets to the Grammy's last-minute? Box seats to a sold-out Broadway play? Reportedly, a lifestyle manager can accommodate all that and more with a Royale in your pocket.
3. The Luxury Card: MasterCard Gold Card
Those looking for industry-leading rewards and perks without waiting around for an invitation should check out the MasterCard Gold Card. For the (relatively) low annual fee of $995, cardholders can receive services through the Luxury Card Concierge, $200 credits toward qualified airline purchases, a "members"-only subscription to Luxury Magazine, and unspecified luxury gifts. The card itself is constructed of 24-carat gold, at least partially.
Like many other exclusive credit cards, you must have a high income and excellent credit to be approved for the Gold Card. And, just like others on this list, many of the top perks of being a cardholder are travel-related. Cardholders receive double points on airfare and a booklet of discounts on flights, hotel, and travel packages.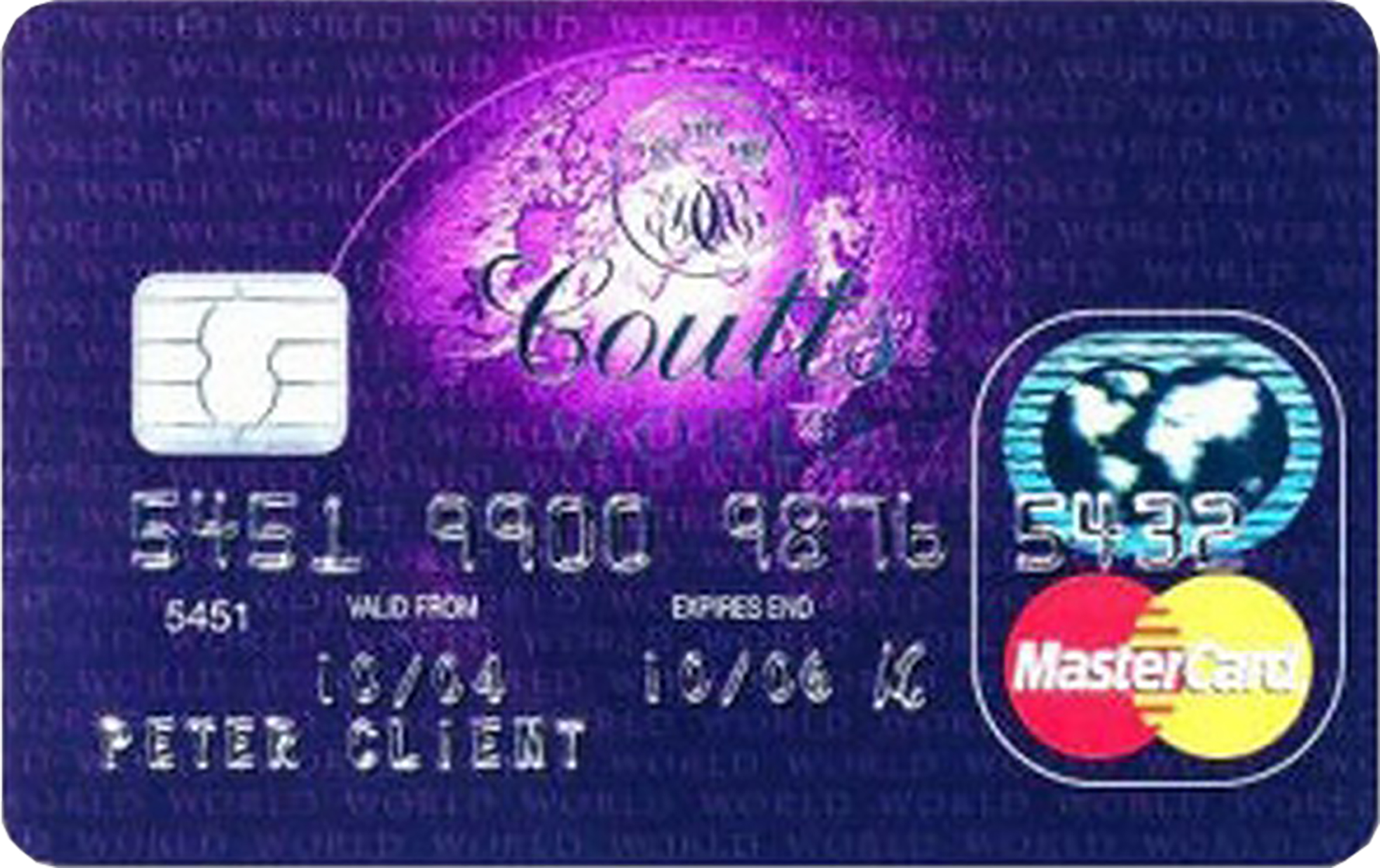 Previously known as the World Card, the Silk Card by Coutts Bank in the UK comes with plenty of high-level benefits, giving it a spot on the list of the most exclusive credit cards. Cardholders who meet the rough $77,000 annual spending threshold do not have to pay an annual fee. They also get access to Coutts Concierge, an award-winning concierge service that provides cardholders with access to exclusive tickets, travel, and dining experiences. Coutts Bank tailors the spending limit of each Silk Card, but a credit line of $30,000 is rumored to be the norm.
In order to get the Silk Card, you must first be a client of Coutts Bank – which in and of itself is no easy feat. The British Royal Family are clients along with many of Great Britain's richest and most famous citizens, but no one knows exactly what the stringent requirements are to be accepted. If you want the Silk Card in your pocket, you may want to book a visit to Great Britain first and open a checking account.
5. The JP Morgan Reserve Card (formerly the JP Morgan Chase Palladium Card)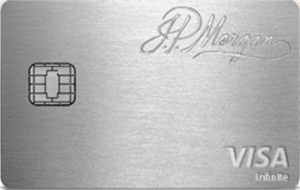 Do you have $10 million or more to invest with JP Morgan? Continuing to the next card in our ultra-exclusive list, the JP Morgan Chase Reserve Card (which replaced the JP Morgan Palladium Card) is targeted at extremely high net worth clients. Like its predecessor, the Reserve Card is made of metal with palladium plating and weighs approximately five times as much as a conventional plastic credit card. And, it is offered only to clients of JP Morgan's Global Wealth Management who have investible (non-real estate) assets of $10 million or more.
Cardholders pay a respectable annual fee of $450 and receive 100,000 Ultimate Rewards points after spending $4,000 within the first three months. Those can be cashed in for free flights and hotels, which surely come in handy for those in the 10 Millionaire Club. Visa Infinite benefits are also available which include hotel and car rental privileges that your average credit cardholder can't possibly hope to get.
6. The Chase Sapphire Reserve Card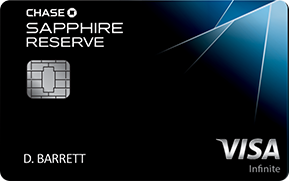 The Chase Sapphire Reserve Card is one of the best-known cards on our list. Much of the exclusivity of the Sapphire Reserve Card comes from the price-point necessary to get in – it has an annual fee of $450, plus an extra $75 for each additional authorized card user. Not to mention, you must have an excellent credit score to be accepted.
Once you are a cardholder, the benefits are significant (and again, primarily related to travel and lodging). In addition to travel credit and triple points on travel and dining purchases, those with a Sapphire Reserve Card in their wallet get access to over 1,000 airport lounges worldwide when they enroll in the Priority Pass Select program. Cardholders also get special travel assistance from a dedicated Chase Travel Team and can take advantage of the Visa Infinite Concierge.
7. The Merrill Lynch Octave Black Card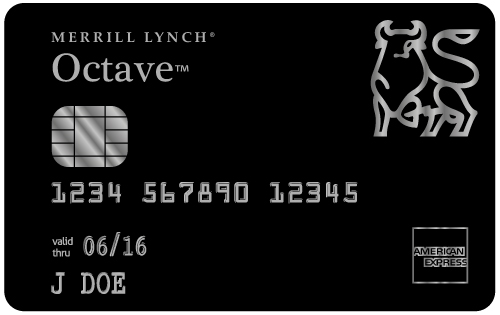 Here is another one for the invitation-only credit card lists. Similar to the JP Morgan Reserve Card requirement to invest with JP Morgan, the Merrill Lynch Octave Black Card is available by invitation-only to high net worth individuals who have at least $10 million in assets in their Merrill Lynch investment accounts. The annual fee for this card is $950—no biggie if you have millions in investments. Only a select few receive an invitation to this credit card, but once in, there are no maximum spending limits and ample travel-related perks.
In addition to concierge service at most major airlines, you can expect to earn 2.5 points per dollar, $350 in travel credit each year, and savings on qualified international flights with the Octave Black Card. Merrill Lynch also says that cardholders get savings on booking private jet flights. Do they mean to imply that not all cardholders have their own?
8. The Delta Reserve Card from American Express
For a very reasonable annual fee of $450 (plus $175 per additional user), you could join the ranks of cardholders with the Delta Reserve Card from American Express. As the name suggests, this card is very flight-oriented, offering the chance to earn Delta miles for every purchase made on the card from gas and groceries to trips to the Bahamas. There is no limit on how many Delta miles a cardholder can earn, which makes this a very desirable card for those on the go. And no exclusive card would be complete without a concierge service, which is provided 24/7 to Delta Reserve Card users.
9. The Stratus Rewards Visa Card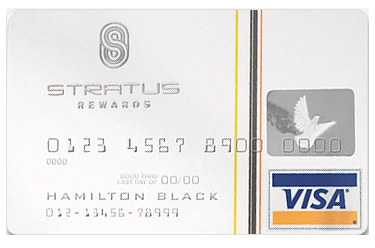 Although black seems to clearly be the favored color among exclusive credit cards, the Stratus Rewards Visa card bucks this trend by being known as the "White Card." This card is available only to those invited or nominated to join, and has a very hefty annual fee of $1,500. You need exceptional credit to even have a chance of owning a White Card, but that alone won't get you into the club. It isn't really known what gets a Stratus Rewards Visa Card into your wallet, but for starters, it is likely only available to those who spend upwards of $100,000 a year on their current credit cards.
Membership offers perks such as free luxury hotel room upgrades and, of course, a personal concierge at your beck and call. Whether you want them to book you a flight or pick up the dry cleaning, rumor has it that the concierge service does it all.
10. The Citigroup Black Chairman Card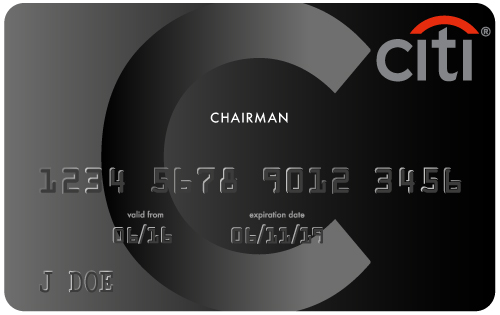 The Citigroup Black Chairman Card's exclusivity is owed to the fact that membership in this card club is only open to those who have significant investments with a Citigroup brokerage account. It's rumored to come with a credit limit as high as $300,000 and a pretty low annual fee of $500. Along with the other black cards on the list, the travel perks are through the roof and include upgrades, access to private airport lounges, and the ubiquitous concierge service to arrange travel and dining at your pleasure. Excellent credit alone won't get you a Black Chairman Card, but you can apply for one and take your chances. Just be sure to drop some serious dough into your Citigroup Brokerage account first.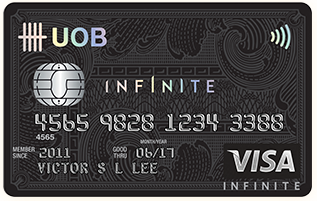 The Visa Infinite Card rounds out the most exclusive credit cards list, because it was created with the wealthiest of customers in mind. There are many iterations of the Visa Infinite Card out there from many different card issuers, but they all have two things in common: luxury and exclusivity. You may have noticed that other entries on our list also mention Visa Infinite. Perhaps it's better to define Visa Infinite as a suite of super cards, ones made for and used by the very highest echelon of the wealthy.
The Worlds Most Exclusive Credit Cards
Just because you're rich doesn't mean you don't use credit. In fact, those who have "made it" know that there is such a thing as good debt. But sometimes you just want the convenience of a credit card and its rewards. As you could imagine though, "rewards" for high net worth individuals are a bit different.
Most exclusive credit cards come with 24 hour concierge services, personal shoppers, access to private airport lounges. But there are a few that stand head and shoulders above the rest. From Diamond Studded cards to $2,500 annual fees, the price of admission keeps card holders in rare company.
Some typical Black Card perks don't earn the Visa Black Card much in the way of recognition. It can get you into many types of VIP lounges around the world, not just in an airport. The most interesting fact is that it is made with Carbon and is a limited membership issue card. A 0% APR is pretty attractive too though. It is the most exclusive credit card you can get with a Visa logo printed on it. But that's about it.
Access: Apparently, just ask…
7. Merrill Lynch Black Bull
Limited to just 5% of U.S. residents, you may think that the Black Bull is super exclusive. This card starts our list because it comes with a $250K LIMIT. Though the perks are pretty big standard, it shares one great reward with another card on our list and allows card holders to accumulate points to toward one free hour of private jet travel with partner Marquis Jet. It is now replaced with the Merrill+ card.
Access: Unsolicited applications; Merrill Lynch Wealth Management assets at $250K or greater pays no fee.
This card is made of Palladium, a rare metal in the platinum family, and 23-karat gold. Logos and names are etched by laser and you receive a plastic version of the same card allowing you to protect the original. Typical travel rewards abound with the Palladium including complimentary first-class upgrades and companion tickets with several airlines.
Access: JPMorgan Chase private bankers with $250K+ available assets on hand.
5. Eurasian Bank Diamond Card
There are many banks starting to recognize the trend and demand. Even if the average monthly wage is about $500, the Eurasian Bank in Kazakhstan is offering a card that is quite simple and elegant. Based on rewards alone you wouldn't give this card a second thought. Look at the card itself though and you see the difference immediately. It happens to be decorated with a gold heart inlayed on the face of the card surrounding a .02-karat diamond.
Access: Issued to Eurasian Bank members with $300K annual income.
4. Sherbank Visa Infinite Gold
How do you sum this card up…? Lets just keep it simple: The card is made of solid gold and encrusted with 26 diamonds.
Annual Fee: None
Access: Be one of Sherbank's top 100 customers and pay the $65K to purchase the card and another $45K as a deposit on your account.
3. American Express Centurion
This exclusive card, rumored to have around 100,000 cards issued worldwide, has for a very long time been considered the strongest card in the business. And it literally is since it is made from Titanium. This writer happens to know of one Centurion card holder (who is sure to be reading this post ; ) ) who purchased his Aston Martin entirely with his. Offering a free "Companion" tickets and access to invitation only and sold out events.
Annual Fee: $2,500.
Access: Invitation Only, $5,000 initial fee, $250K annual spending thru American Express.
Bucking the status quo, the Stratus Rewards Visa is actually known as "The White Card". Billed as a competitor, but arguably more exclusive than the Amex Centurion, the White Card comes with all the standard "Black Card" perks with one special extra. You see, the only problem with the Centurion is that its card holders typically don't fly commercial to realize those class upgrades and lounge access perks. With the White Card you can redeem up to 25 hours of discounted or even free private air travel with the issuing banks partner Marquis Jet.
Annual Fee: $1,500.
Access: Invitation or Nomination Only
1. Dubai First Royal Master Card
At only a few hundred being issued to UAE residents only, it's understandable that not much is known about the world's most prestigious card. Like the Sherbank card, it is made with real gold and a rather sizeable certified diamond in the center. Typical members are usually royalty or oil tycoons producing 9 to 10 figures annually. So, honestly what "rewards" can you offer a UAE national? Yes, most of these cards have 24/7 concierge but the Dubai First Royal Master Card gives you your personal relationship manager as well as a lifestyle manager and no purchasing restrictions…period. And believe it or not a whopping 4% cash back. Go figure.
Annual Fee: Seriously…you expect Master Card to charge these guys?